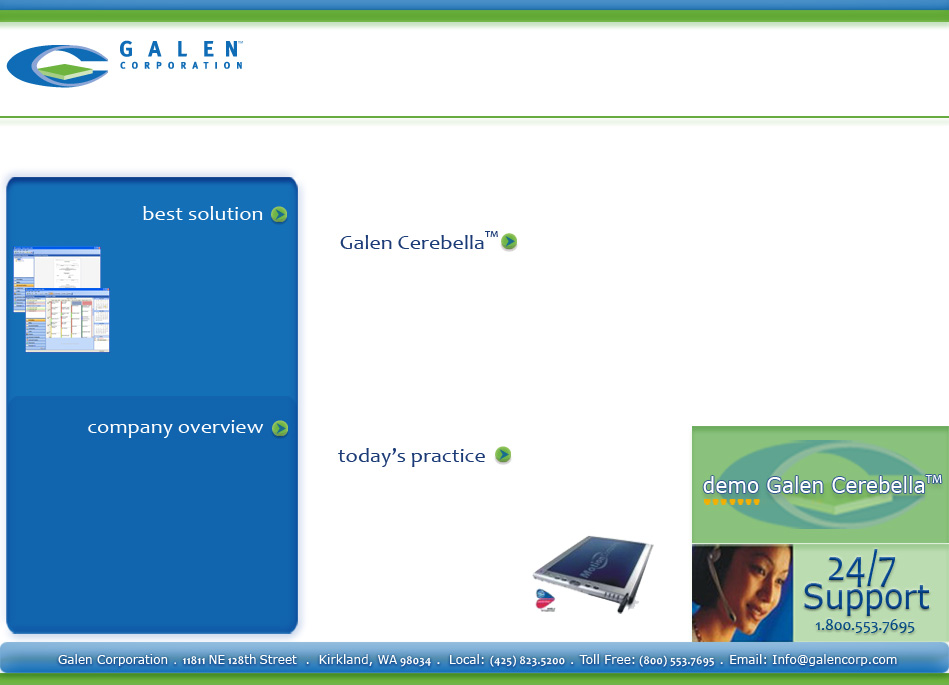 Galen Cerebella™ is the complete medical office management software designed to give you a more efficient, streamlined and profitable medical practice.

From scheduling and messaging to patient charting and prescription management to billing and accounts receivable, Galen Cerebella™ integrates all of your practice functions into one system and lets you manage it all electronically...
Galen Cerebella™ will turn your practice into a paperless office and help you automate tasks that consume your day.

It's easy to use, it's easy to set up, and it's easy to convert to and with its granvular security. Only the people you designate can view sensitive information.
Galen Corporation is located in Kirkland, WA.
We are committed to delivering the latest technology in one convenient installation.
We have teamed up with a number
of healthcare providers and staff in different areas of specialty to design the latest in Practice Management and EMR software for the medical community. The result of this collaboration is Galen Cerebella™
Never be tied down to your desk again!
Galen Cerebella™ is easy
to use, easy to learn and easy to convert to.
Make it your simple solution!